About PayPal Credit
What is PayPal Credit?
PayPal Credit is like a credit card, without the plastic. It's a credit limit that's attached to your PayPal account which you can use for your online purchases.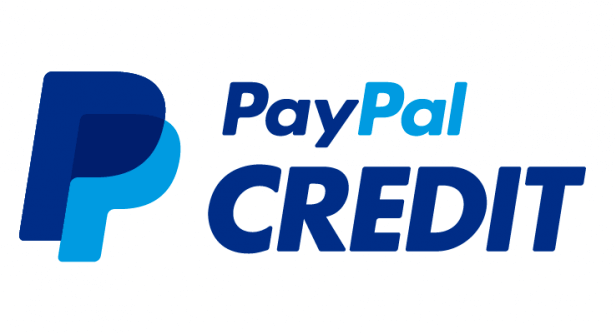 How much will my credit line be?
To determine the size of your credit line we use the information you provide in the application form along with internal PayPal data and an external credit check.
How does the '0% for 4 months' offer work?
0% interest for 4 months is available on single transactions of £150 or more. It applies automatically to any purchase made using PayPal Credit in excess of this value, except those to which another Promotional Purchase Offer (such as an instalment offer) applies. You can use this offer as many times as you like as long as you have an available credit limit.
Any remaining balance due after the 4-month promotional period or any transactions under £150 will be charged at 17.9% p.a (variable).
If you fail to make minimum repayments on time or in certain other circumstances, PayPal may remove your offer. Please see the Credit Agreement for more details.
Getting Started with PayPal Credit
How do I apply?
Applying for PayPal Credit is easy. Simply complete our short application form:
Once approved and you accept the Credit Agreement, you'll have a credit limit linked to your PayPal account almost straight away.
What if I don't have a PayPal account?
The first stage of the PayPal Credit application process will ask you to sign in to your PayPal account or offer you the opportunity to sign up for one. Once you've signed up for a PayPal account, you can begin the application for PayPal Credit.
Signing up for a PayPal account is free and easy; all you need to do is provide your email address, create a password and accept our User Agreement.
How to Use PayPal Credit
When completing a purchase, customers can simply choose PayPal as their payment method during the checkout process, then select to pay via their PayPal Credit allowance within their account.
New PayPal Credit users simply fill out a short form and will receive an instant decision and a credit limit, which they can then use straight away for their purchase.
How long does it take to apply for/receive PayPal Credit?
The application form takes minutes to complete. We'll then run a credit check and if approved, you'll have a credit limit linked to your PayPal account as soon as you accept your Credit Agreement.
About Pay Monthly
What is Pay Monthly?
Pay Monthly is an option to spread the cost (subject to prior approval) between 6-12 monthly instalments at 0% interest. This option is only available for orders over £500.
How does the 0% for 6 to 12 months offer work?
Once approved you will enter into a contractual payment agreement over 6 to 12 months made up of an initial payment followed by 5 to 11 equal payments taken by Direct Debit.
Will I be Approved for a high value purchase?
Each application is considered individually, we may ask you for supporting documentation with or after your application.
How long does it take to apply for/receive approval for Pay Monthly?
The initial application takes only minutes to complete, but because we assess each application individually the approval could take 1 to 5 days.